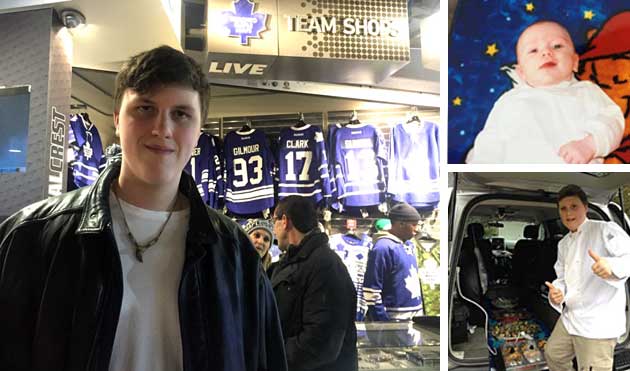 Born into Chaos
Jarrett was born on September 14, 2001… Only 3 days after the world famous 9-11 incident at the World Trade Towers, which rocked the world. While his arrival was peaceful, healthy and safe, Jarrett was joining a special needs family, whose daily life was just beginning to ramp up in intensity and chaos. His timing was perfect!
Testing before he was born revealed that Jarrett would not develop Late Infantile NCL. Also, because Diane was pregnant, there were scientific tests (enzyme and chromosomal) that Jarrett helped to secure that otherwise would not have been available. So grateful for this.
Jarrett did not have a traditional childhood, growing up with Carling and Colton. He did not speak until he was age 3… and so he developed many skills by watching and imitation.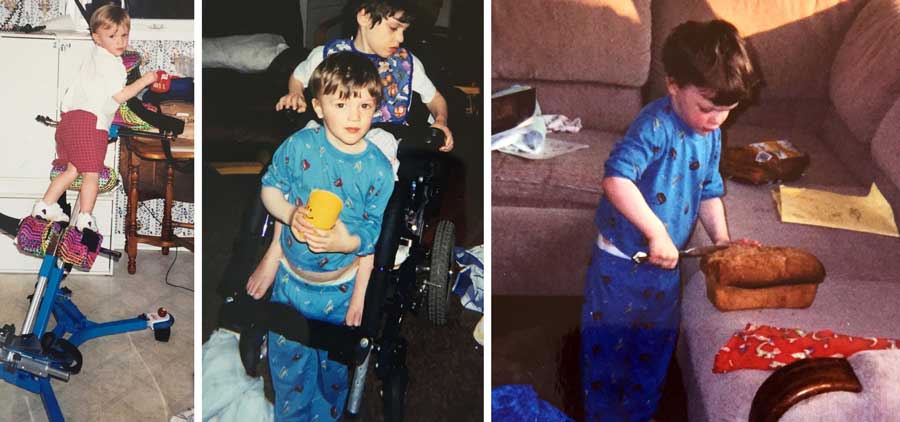 A Chef?
Jarrett developed a love of cooking at an early age. The choice was either the kitchen or the TV… So Jarrett was given his own cutting board and chopper at age 2, and his official job was to cut… mushrooms. (even if we weren't eating mushrooms)… He would push the chair over, and carefully wash them (sometimes with soap), then hop down to the floor, with his cutting board and chop while mom fed his sister, or brother or prepared medications.
The kitchen was grand central in the house. By 4 Jarrett was preparing "snack" for anyone who visited. A neighbour helping out one day turned on the cooking network, and Jarrett sat eyes wide for 6 hours straight. Then the cooking began in serious.
In 2013 when he had to fundraise for his Scout Jambouree trip to Alberta, he raised over $600 by catering to family and friends. His love of food continues — and he certainly can make some amazing meals.

Fairly early on in their lives, we were aware of what both Carling and Colton's purpose was. So when he was about 8 years old, I asked him simply "Jarrett, what do you think the reason you are here on earth is?" He didn't blink. "I'm here to help." he responded. Simple. Matter of fact.
And help he did. Not always willingly, after he discovered the fun of video gaming, but always, always when needed.
He assisted with transfers, loved helping prepare botanical supplements, or uncapping the many capsules of vitamins and minerals to add to Colton's twice daily fresh juice/nutrient cocktails. From an early age, he adopted the role of pushing Colton's wheelchair, as well as operating the electric lift on the wheelchair van.
Jarrett was 11 when Colton got a Tracheostomy Tube… He joined the rest of the team in the "Trach training" at Sick Kids Hospital, including CPR for trachs, and learned to trach suction. Jarrett was also the Oxygen guy at home… switching out tanks and helping make sure the refillable ones were always ready.
India
Jarrett enjoyed going to India with Colton's team in 2008. As a 7 year old, his favourite part was the theme park he visited while Colton was in hospital recuperating from his stem cell brain surgery, as well as the awesome spicy food, and the ride we all took at a nature park on some local elephants!
Arrowsmith School
Jarrett was not without his own challenges. In grade 4 a psych. ed assessment diagnosed him with a learning disability. He was clearly bright and intelligent, the psychologist explained "he's just hard wired differently than the way they teach in schools."
The summer after Colton died in 2013, a friend casually mentioned Arrowsmith School (Barbara Arrowsmith Young "the Lady Who Changed her Brain" is a pioneer in the world of neuroplasticity. Her schools focus on repetitive exercises that build new brain pathways so kids can learn in more traditional ways and do better at school). This sounded promising.
Jarrett was tested, and accepted into the Toronto Arrowsmith school. The plan was for him to attend for 1.5 years full time, and the agreement with Jarrett was that if he did this school work (and as any student will tell you… it is a lot of difficult, tedious work), he could return to his friends and classmates, and join them as they all moved to the local high school for grade 9.
During the process of sourcing funding for this latest (expensive) opportunity, the school contacted me saying his spot had been filled by another family, and that he couldn't start in Toronto till September. This was not the plan! As I hung up the phone, I got the feeling that somehow our angels (Jarrett's siblings Carling and Colton) were orchestrating things. The only affiliated Arrowsmith school with a spot in January, it turned out… was across the country in beautiful British Columbia!
5 Months in BC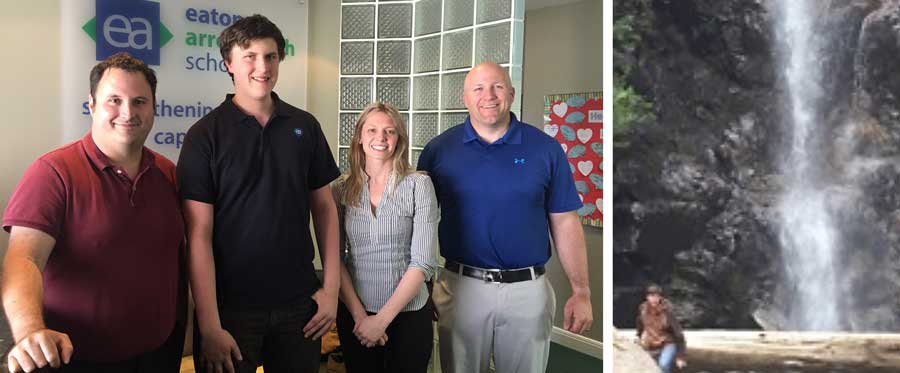 A few weeks later, Jarrett and I packed up our trusty wheelchair van and headed across the continent for a 5 month adventure. We lived in a rented basement apartment in White Rock, while Jarrett went to the Eaton Arrowsmith school. Had an amazing view overlooking the Pacific Ocean! Jarrett joined the Sea Scouts, made some good friends and got certified in Kayak 1. Every day we marvelled at the beautiful BC scenery… favourites were cooking crab on the beach beside the Ocean at Tofino on Vancouver Island, Hiking in the trails of North Vancouver, Visiting a friend's beautiful cabin on Paradise Lake in the Interior. Also, a trip to Calgary, Alberta — and beautiful Banff and Canmore. Those mountains are beyond description. So incredibly breathtaking. (especially if you are trying to climb them!)
Toronto
September 2014 Jarrett started at the Toronto location of Arrowsmith school for his full year of neuroplasticity work. (Only English and Math from traditional curriculum). He had made significant progress in the 5 months in BC, and was now working only on 4 major areas (the school focuses on 19 areas of the brain where their exercises can help). Fun to have some big city experiences. Great Food! By June we had worked our way through a plan to explore some of the more prominent neighbourhoods Toronto offers: Chinatown, Little Italy, The Danforth (including Taste of the Danforth — the huge Greek food festival), Harbourfront, Cabbagetown, Bloor West Village and High Park, Leslieville, The Beach, Kensington Market and Chinatown, St. Lawrence Market, Yonge & Eglinton, Davisville, The Scarborough Bluffs and the Distillery District. Must say it was a pretty invigorating experience. Jarrett made some good friends at the small Arrowsmith school and was riding the subway like a city kid to go visit his buddies, by January.
During the year end ceremonies at Arrowsmith June 2015, Jarrett received the Barbara Arrowsmith Young Director's Award for dedication to the program and outstanding results. It was on to the next chapter…

Back Home
When we returned to Burlington, a wonderful gesture from Jarrett's primary school Principal was gifted to him. He got to attend the Grade 8 graduation with his friends — the ones he would be going to high school with, (AND go to the dance). This was an exhibit of how people in education can understand that school's impact extends way beyond the classroom. He reconnected with his peers before the summer, knowing he would see many friends again in September.
High School. Jarrett continued to grow over the summer. He entered grade 9 at 6′3 and 220 lbs. He was approached by the football coaches to play. Jarrett enjoyed the experience and friends, particularly when they won the Halton Championship. Jarrett is looking forward to next season. Nelson high school is a big football school with great coaching, so it's a positive experience.
Jarrett has developed into a fun, caring youth. He's a gamer, could research for hours on YouTube and Google, and always makes time for friends — either the guys on the street, or visiting with family or adult friends who have made such a difference in our lives over the years with all the different forms of help we have received.
Jarrett continues to attend the Sibling's program each summer for the BDSRA (family organization for NCL families)… it's the one week of the year that he hangs out with kids who have also been through similar experiences such as his own.
He's tough, he's kind. He's here to help. So proud of the young man he is turning into.