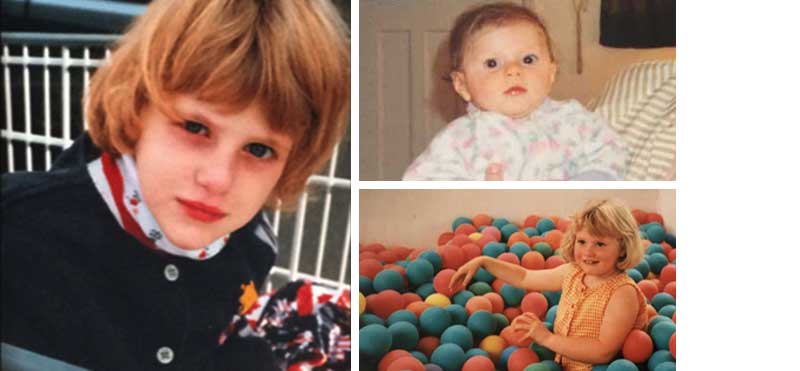 Carling was born on August 28, 1995. A delightful baby and young girl, who was developing normally. She spoke, and loved to colour pictures, and do crafts. Like other young children her age, Carling could spend hours watching Winnie The Pooh videos. She had a healthy appetite, and loved salad and spaghetti. One of the best trips Carling got to experience before our lives changed forever, was a trip to Australia to visit her grandfather. She paddled around with water wings delighting at the fish at the Great Barrier Reef. Carling was almost 3 when she had her first seizure in July 1998 and, after two more seizures, was referred by our family doctor to specialists at McMaster University Medical Centre. This began an eighteen-month pursuit of a diagnosis.
Health Challenges

Carling was a loving big sister to Colton and almost 3 years old when she had her first seizure in July 1998 and, after two more seizures, was referred by our family doctor to specialists at McMaster University Medical Centre. This began an eighteen-month pursuit of a diagnosis.
It is difficult to describe the process of unravelling a medical diagnosis. Another parent once shared… "you keep expecting at every new appointment to find answers… and there just aren't any". Carling saw so many specialists and health professionals. She was patient and very strong. Eventually, she became so experienced at giving blood samples that she started assisting the technicians… Meanwhile, her symptoms became progressively more pronounced; she was almost continuously having absence seizures, which caused her to lose her balance and fall every 45 seconds. She wore a helmet, to protect her head during the falls.
In absolute frustration, with no conclusive answers, we switched her primary care to Sick Kids' hospital in Toronto, and in January 2000, Carling was diagnosed with Late Infantile NCL, using 3 biopsies (muscle, skin and eye tissue). Devastating as the diagnosis was to us as her parents… it was also a relief. We no longer had to invest our energy in searching for a diagnosis — but could fully focus on the disorder and its effects on Carling. We now understood our mission!
Our Focus
From the very start, we also realized how critical it was to maintain a positive attitude. Especially where ill health is concerned, it is so easy to get swept into the draining emotions of: sympathy, pity, fear and anger. But they don't serve. They aren't productive. They take away positive energy — which we weren't willing to forgo one tiny bit — because we needed ALL the positive energy we could rally. We also realized that people who want to support you — often don't know how or what to do. So when we told family and friends of Carling's diagnosis, we wrote a newsletter, asking for positive thoughts and energy. And we formed our team.… The Winning Team.
Since traditional medicine offered "neither a treatment nor a cure" for NCL, we had to look elsewhere. Our focus was twofold: Keep Carling as healthy as possible (slow the degeneration), and search for treatments which would reverse the degeneration (provide a cure). We were entering another world: An Integrative medical model. It started with an article in TIME magazine talking about cranio-sacral massage (CSM) — which we thought would help reduce the stress on Carling's brain from all her seizures. We found a CSM Therapist through a friend, and discovered she was also a Naturopathic Doctor… this opened the door to a whole new world of natural health practitioners and options. Physio, Osteo, Quantuum Healing, BOS, Chiropractic, Chinese Medicine, Accupuncture, Massage Therapy, Hydrotherapy… so many tools.
Late Infantile NCL (sometimes referred to as Batten's Disease — which is actually another form of NCL) takes functionality away so slowly that it is not always noticed at the time. For Carling, it slowly diminished her capacity to perform basic body functions. At the time of her death in April 2004, Carling was unable to speak, but was aware and understood what was being said to her. She was also able to walk with assistance, moving her own legs. In the summer of 2001, Carling got a wheelchair, which allowed for greater mobility outside the home.
Carling got a feeding tube (G-Tube) when she was 6. What a blessing! This tube, attached to a tiny hole a bit larger than one for a pierced earring, had an adapter that allowed for feeding directly into Carling's stomach. She was still able to taste some foods by mouth, but the wonderful thing about the G-Tube was that it allowed Carling to get enough calories and fluids to keep her healthy. We didn't give her the canned formula that is prescribed with a g-tube, instead worked with our ND to make sure the regular food we gave her, pureed until smooth and thin, provided all the nutrition she needed. (It also meant Carling could take her anti-seizure medicine and all the bitter herbal medicines and homeopathic tinctures without having to taste them!)
Carling went to school when she was well and was in grade 2. With her educational assistant, she used a hand-over-hand technique to draw and print the alphabet. She had a stander (device), which supported her in standing in a small group setting with the other children, and promoted her health as well as independence and self-confidence.
One of her greatest joys was hanging out with her classmates at school. For her 8th birthday she wanted to spend time with her friends "with no adults". So during her party, we brought Carling into a bedroom, propped her up on a big queen size bed, and the activity behind closed doors was "decorate Carling with her beanie baby stuffed animals". The only thing you could see when the door was opened after this short period of "kids only" activity was Carling's smile beaming from a mound of stuffed toys.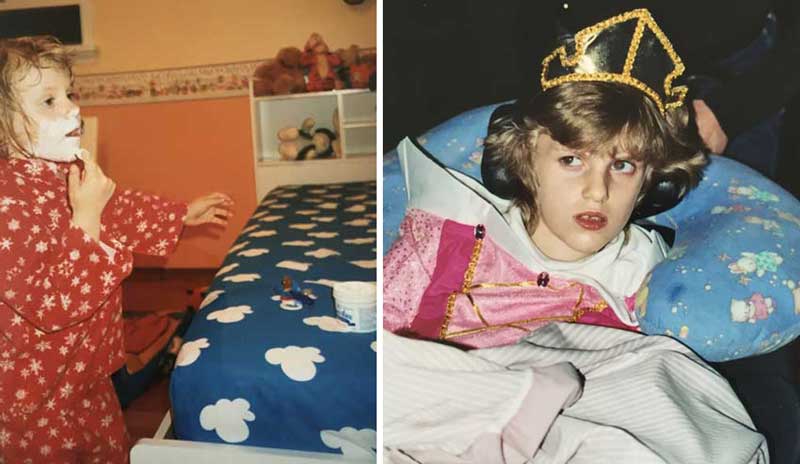 Carling also loved her brothers very much. When Colton was a baby she would lean over him, always trying to hold him and talk to him. She wasn't speaking when Jarrett was born, but there still was a bond. Jarrett would climb onto the footplates of her wheelchair and sit, watching cartoons, holding her feet in his hands.
Both Carling and Colton received wishes from the Make a Wish Foundation in 2003. Carling had a list of wishes. Make a Wish donated a hot tub (with support from the local sponsor LCBO at Millcroft in Burlington). This provided much relief to tight muscles and soreness from sitting in a wheelchair for both Carling and Colton. Carling also got to Swim with Dolphins in Florida on Colton's Make A Wish trip.
Stories by Carling

Another one of Carling's wishes was to write a book, with stories she shared to her Mom…  Stories by Carling…. The Wisdom of a Special Needs Girl also features illustrations by Carling's classmates from grade 2.…Copies are available.
Carling died on Easter Sunday,… April 11, 2004, 4 months shy of her 9th birthday. She will always be remembered as the embodiment of her name, which in Gaelic means "little champion".